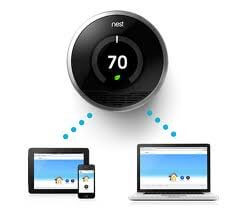 You may have heard of NEST Thermostats. For our clients looking for air conditioning in Woodlands, TX, we recommended the NEST Thermostat system as it not only makes life easier for our customers, but it can also lower their energy bill. Have you ever left your home in a rush for work and forgot to change your home's temperature? The NEST Thermostat can learn your schedule and program itself based on your past use of the thermostat. You can even control the thermostat through your phone. By turning off the home air conditioning when you are not home and turning it back on when you are en route back home, the NEST Thermostat can lower your heating and cooling bills substantially, since you are no longer paying for cooling when you're away from home.

The NEST Learning Thermostat can turn itself on at a set time before you arrive home so that you are never walking into a sweltering, humid house. By turning itself off while you are away, it saves you upwards of 20% on your heating and cooling bills. From the very moment it is installed, its features are fully activated. The system begins to learn your heating and cooling habits immediately. Automatic settings can always be overridden by the use of your phone. Set up of the system takes about 1 minute - it is that easy.

No one enjoys programing thermostats, but if you do not program them, you can waste a lot of money each month. With the NEST Thermostat, you simply use it by turning it up and down. It then learns what temperatures you like and what times you are generally home and proceeds to program itself. If you do need the temperature changed on the fly, you can do it manually or via your mobile device. The device only needs about a week before it begins to set the temperatures on its own.

The system includes a feature called Auto-Away. The Auto-Away system will switch to the most energy efficient temperature when you're away from your home, then switch back to your desired temperature before you are due back home. When you arrive back home, the temperature will be at the exact setting you desire with no need for adjustments. The NEST system remembers to save power even when you do not. The NEST Thermostat can be self-installed or installed by your local air conditioning contractor. When it comes to air conditioning in Woodlands, TX, ACT Air Conditioning Texas can offer you fast and dependable air conditioning and heating service. Contact us today!