Air Conditioning Service, Repair & Installation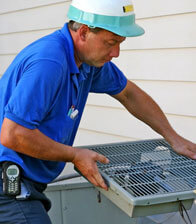 Like all systems in Houston, Texas and surrounding area homes, your central air conditioning system is a major investment. You rely on it to keep your home comfortable during our hot, humid Houston summers.
Regular maintenance of your air conditioner is as important as regular service on your car. Forgetting to schedule regular maintenance on your air conditioner can be a costly mistake.
---
Without proper air conditioning maintenance, your air conditioner's lifetime may be shortened and its efficiency will be reduced. The cost of your air conditioning system should be measured over the years you own it, along with the annual costs of operating it in the Houston and Woodlands environment. It's easy to see that the longer it lasts and runs efficiently, the lower your overall costs. Like all mechanical systems, repairs are also sometimes needed on central air conditioners. When your air conditioner isn't working correctly, or isn't working at all, getting it repaired quickly is a high priority. ACT Air Conditioning Texas offers complete AC repair and maintenance service for all major brands of central air conditioners.
Restoring the comfort of your home is important. Proper air conditioning repairs, using high-quality parts installed by highly trained AC technicians equipped with the tools and diagnostic equipment needed, can quickly return your air conditioner to efficient working order. \We offer clear, competitive pricing on all our services. After we find out the source of your problem, we will provide you a quote on how much it cost to fix your AC problem. You will not pay a penny more than the price you are given.
---
AC Repair Services
If there are problems with your air conditioner or heat pump, call us right away. Symptoms like poor cooling, unusual noises, or any change in the operation of your ac system should be repaired quickly. Neglecting symptoms can lead to expensive compressor replacement or a failed AC unit that must be replaced. Our expert AC technicians can quickly diagnose the problem, give you a repair estimate, and then repair your HVAC system at the time of the air conditioning service call.
---
Annual Cleaning & Tuneups
All AC manufacturers recommend an annual cleaning, performance check and tuneup of their central air conditioners. Usually done in the spring, before the Houston summer heat quicks in, this service includes a thoroughly cleaning and removal of debris and leaves from the outside unit. The air conditioner is tested and inspected to make it's operating up to specifications. Any minor problems discovered can be repaired quickly to prevent expensive failures.
---
Service for all Major AC Brands
Our HVAC technicians are trained to diagnose and repair all major brands of central air conditioners and heat pumps, whether we installed them or not. We maintain an extensive stock of parts in our warehouse, and most commonly needed parts are always in our AC service vehicles.
Trained Professional Technicians - At our Houston air conditioning company, our AC repair service technicians receive continuous training, have state of the art diagnostic equipment and the proper tools and skills needed for all air conditioning repairs in Houston TX. They're always prompt, efficient and courteous and will always take the time to explain what is needed and provide accurate cost estimates. All of our AC repairs are guaranteed.
---
Fast Replacement of Failed Systems
If your HVAC system cannot be economically repaired, we have a large stock of central air conditioners and heat pumps in our warehouse and can install any unit quickly for you.

We offer competitive pricing for all air conditioning repairs in Houston, TX. After we diagnose the problem, we provide you with an honest quote of how much the ac repair job costs. The price you see is the price you pay. No hidden charges. Only after we have your approval of the price, we will go ahead and get the work done. We offer a one year warranty on all air conditioning repair jobs.

---
Reliable Air Conditioning Repair, Service and Maintenance in Houston
We offer individualized AC service and repair and take pride in our workmanship. Our certified and experienced HVAC technicians can handle all of your local air conditioning needs, including a service checkup, an air conditioner repair or installation of a new high efficiency HVAC system in Houston, TX and all surrounding areas. We can also help you maintain quality air conditioning maintenance.

For your central air conditioning inside your home or business in Houston Texas and every part of town in between, your air conditioner will thank you for calling ACT. When any component of your heating, ventilation and air conditioning system has a problem or you need regular or seasonal maintenance, you can rely on the highly trained technicians at ACT Air Conditioning Texas to provide prompt, courteous service anytime you need it. Call us anytime for maintenance, service and repair. We're always ready to help.
If you are interested in any AC Replacement, contact us for a free air conditioning estimate!