Duct Sealing & Replacement
High Utility Bills? Stuffy Rooms? Dusty House? It Could Be Your Ducts.
What is duct sealing?
The process of identifying and sealing duct leaks in the air conditioning and heating system.
Aren't these sealed when the system is first installed?
Although the problem of leaking AC and heating systems has been known for some time, the majority of systems in existing homes have been built to the minimum standards. It was not considered important at the time and only recently has it become a part of the building code for new homes.
Why do they need to be sealed?
Most HVAC systems leak a percentage of their heated or cooled air from the ducts, often 30% or more. When the ducts are in the crawl space and attic, this treated air is then lost, resulting in wasted energy. By sealing the joints in the ductwork, a larger percentage of the cooling and heating is then delivered to the home's interior, making the delivery system much more efficient.
Your Houston home's ducts move heated and cooled air to the living areas to make you feel comfortable. But in a typical house, 30 percent of the air that moves through the duct system is lost due to leaks, holes, and poor connections. The illustration below shows many common duct problems, such as:
Leaky duct connections
Leaky return ducts
Furniture blocking registers
Leaks at furnace and air filter slot and duct tape failures
Fallen duct insulation
Leaky supply ducts
Kinks in ductwork restricting airflow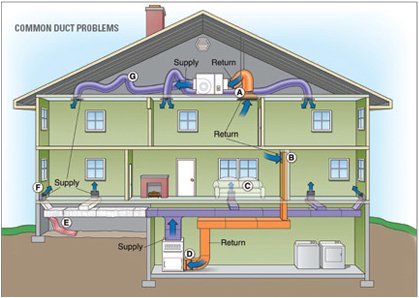 How are they sealed?
By locating the joints in the ductwork and plenum and applying a mastic paste. The paste is fast drying, non-toxic and very effective at sealing openings. Many existing Houston TX air conditioning and heating systems have only been partially sealed with tape, which has proven ineffective at sealing these joints and is prone to failing over time.
Why Is duct leakage an important issue?
Leaks in forced air duct systems are now recognized as a major source of energy waste in both new and existing houses. Studies indicate that duct leakage can account for as much as 30% of total house energy loss, and in many cases has a greater impact on energy use than air infiltration through the building shell. Just as important, duct leakage can prevent heating and cooling systems from doing their job properly, resulting in hot or cold rooms, and humidity problems. Worse yet, duct leaks can create indoor air quality problems by pulling pollutants and irritants directly into the house.
Here are just a few of the problems resulting from duct leakage:
Leaks in the supply duct-work cause expensive conditioned air to be dumped into the attic, crawlspace or garage instead of into the house.
Return leaks pull outside air into the duct system reducing both efficiency and capacity. In humid climates, moist air being drawn into return leaks can even overwhelm a new system's cooling and heating ability.
High humidity. Clammy.
Leaks in return duct-work draws air into the house from attics bringing with it dust, mold spores, and insulation fibers.
Household depressurization from duct leaks and imbalanced duct systems can cause natural gas back drafts.
ACT'S process of sealing ducts:
Inspect the whole duct system, including the attic, cross space and garage as needed
Evaluate the system supply and return air
Repair damaged and disconnected ducts and straighten out flexible ducts that are tangled or crushed (or replace)
Seal all duct leaks and connections with mastic
Seal all registers and grilles tightly to the ducts
Check for air leaks after repairs are completed