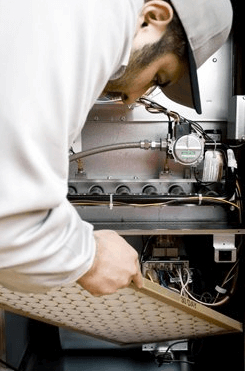 With the winter months upon us, there are two things we can be certain of: 1) you'll be relying on your furnace for comfort, and 2) you'll spend more time inside of your home. If both of these things are true, then you can count on one more thing: you need to change your furnace filter. The question is, how often do you need to replace it?
Changing your furnace's air filter is a component of recommended furnace maintenance. If you have a standard 1 inch thick, pleated filter, the general rule is that your filter should be changed once a month. This type of filter is designed to prevent the largest air particles and debris from entering your home, but not the smaller particles that affect the air you breathe and that could potentially harm your lungs. For this reason, high efficiency furnaces with 3" filters are becoming the industry standard. If your furnace has this type of filter, it should be changed once every 3 months.
It's also helpful to consider the type of lifestyle you lead. If you have allergies or a lot of pets in your home, then you might want to change your furnace's filter more frequently. Likewise, if members of your family smoke, you may wish to change it more often. There are many reasons benefits to changing your furnace's filter often. Most importantly, you will enjoy overall better air quality in your home. It will also assist you in avoiding expensive furnace repair down the road.
If you are in need of furnace maintenance, repair, or other types of HVAC services, give ACT Air Conditioning Texas a call at 281.355.1500. We pride ourselves on offering our clients a one stop solution for all of their commercial and residential heating and cooling services. When you choose to work with us, you can count on high quality, dependable service for all of your indoor comfort needs. Contact us today!