Mini Split Ductless Air Conditioners
What are Mini Splits?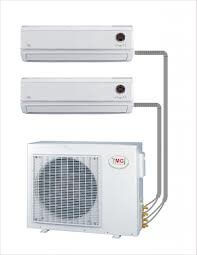 For most Houston TX and surrounding area homeowners, air conditioning is a fairly simple matter. An outside air conditioning unit, working in conjunction with the home's furnace and air ducts, provides cool air to every room. Some Houston homeowners have homes that don't lend themselves to installation of air duct systems. These homeowners have had to rely on noisy, bulky window air conditioning units installed in every room that needed cooling.

Now, with the introduction of modern, efficient ductless split systems, this problem has been solved. Using a small outdoor unit and quiet, attractive indoor units, modern air conditioning in homes without air ducts is finally practical and affordable. From units that cool just one room or area to multi-split systems that use a single outdoor unit, along with multiple indoor units, ductless air conditioning systems provide quiet, clean, cool air to homes and let Houston homeowners dump those old window units.
Quiet Operation
Indoor units are quiet, you won't even notice that they are running. They're many times quieter than old fashion window units.
Efficient
Up to 21 SEER, these efficient air conditioners and heat pumps help cut cooling bills down to size.
Flexible
Cool just a single zone, or choose a multi-zone system to cool up to 4 rooms or zones, using a single outdoor unit.
Duct Free
The outdoor unit connects to indoor units using easily concealed hoses. The perfect solution for hard to cool Houston homes.
Remote Operation
From a single zone system to multi-zone system, simple wireless remote controls let you manage temperatures from anywhere in the room. Each room is controlled separately for economical and customized comfort.
---
Mini Split Heat Pumps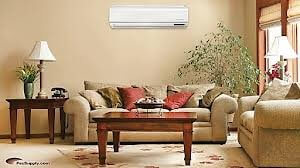 Mini split systems are also available in heat pump versions that can heat your home, room by room, during cold Houston weather. This helps to cut heating bills by eliminating the use of other heating systems during very cold weather.

---
If you'd like to learn more about whether a ductless air conditioner is right for you or your project, and how much a mini split ductless AC system cost, we will provide you with a free in-home analysis. Our pricing estimate is accurate and it covers the cost of buying and installing a new ductless heating system.
If you cannot install a traditional central air conditioning system in your Spring or Houston home, contact ACT Air Conditioning Texas about an affordable, quiet ductless mini split system air conditioner or heat pump. Whether you need to cool or heat a single space or multiple rooms, we have the experience and expertise needed to create a heating or cooling system for your home using this revolutionary technology.
Call us today for a free consultation in your home and we will show you how a mini split ductless air conditioning system will revolutionize your cooling and heating needs.