Indoor Air Quality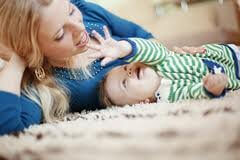 Good indoor air quality contributes to a healthy and productive environment and creates a sense of comfort and well-being. Bad indoor air quality can have many adverse effects, including long-term health problems. Proper maintenance of indoor air is more than a quality issue; it includes the safety of your family and home investment.

We provide high quality whole house air cleaners and UV lights and the REME Halo in-duct air purifier.
Improving your indoor air quality can help eliminate a number of ailments, including:
headache
fatigue
shortness of breath
sinus congestion
coughing and sneezing
eye, nose, throat and/or skin irritation
and dizziness and nausea.
Our technicians can evaluate your indoor air quality needs and install an air cleaner, UV light or REME Halo to vastly improve the indoor air quality in your home or business. Whether your home or business is in Houston, Spring, The Woodlands, Katy and surrounding cities, we will install these devices at your convenience.
REME Halo In-Duct Air Purifier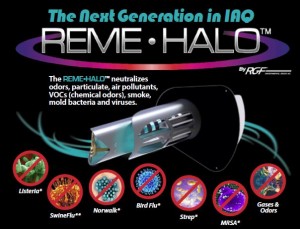 Reduces air pollutants and odors
Dual ionizers help reduce airborne particles that trigger common allergies like pollen, dust, dander and mold spores
Reduces sneeze germs by 99% within 3 feet of a sneeze
Lessens odors from musty rooms, pets, cooking, dirty socks and diaper pails
Details:
Design Goal: Help eliminate sick building syndrome risks which are highly common in office buildings
Highly Effective: Against the 3 categories of indoor air pollutants which are particulates, gases and microbial pollutants
Testing: Thoroughly tested against airborne and surface viruses and bacteria like e-coli, MRSA (Methicillin Resistant Staphylococcus Aureus), Strep and Norwalk virus
Easy to Install: Integrated with the existing HVAC system, it operates silently and provides whole home and building purification unlike portable type units
Highly Effective: Kills up to 99% of bacteria, viruses and mold and new zinc ions kill 99% of viruses on surfaces

UV Treatment Systems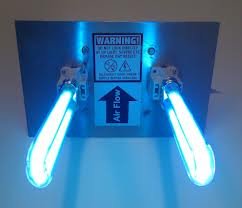 Zaps surface mold that can grow on cooling coils
Kill airborne bacteria that can recirculate through your home
Helps create a more energy efficient home
Details:
Highly Effective: Eliminates up to 99.9% of mold spores in your system
High Rate of Success: Kills up to 87% of certain airborne bacteria passing by the system
Highly Efficient: Helps maintain system efficiency and airflow, which saves money by not having to have your system coil cleaned as often
Long Lamp Life: SmartLamp technology optimizes efficiency of lamp run time, and LED lets you know when lamp replacement is needed
Safe: Sealed unit design and multiple interlocks prevent accidental contact with UV rays
Whole House Media Air Cleaner
Up to 85% more efficient than a standard 1" filter
Less frequent filter replacement needed up to a year
Simple maintenance
Details:
Superior Performance: Up to 4 times more effective and is up to 85% more efficient at capturing airborne particles compared to a standard 1" filter
Highly Effective: Captures both microscopic particles like dust and smoke, in addition to larger contaminants such as mold spores and pet dander
Replace Less Often: Lasts up to 4 times longer than a standard 1" furnace filter. Replace every 6-12 months versus monthly or quarterly changes.
Widely compatible: Works with all gas and electronic forced air furnaces and air conditioning systems
Easy to Upgrade: Can be easily converted to a higher performance electronic air cleaner
Electronic Air Cleaner
Capture up to 99% of airborne particles
An advanced, low maintenance solution
Reliable and eco-friendly
Details:
Renewable & Eco-Friendly: Uses a filter which does not need to be replaced every month
Minimal Maintenance: Filter cell simply needs to be washed off every 6-12 months
Highly Effective: Three-stage filtration system that places an electronic charge to collect up to 99% of airborne particles as they pass through the system
Efficient: Helps save you money by keeping your heating and cooling equipment clean and extending its service life
No Recurring Costs: No replacement filters ever need to be bought