Temperature Zoning Systems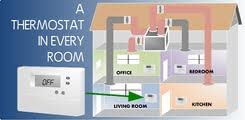 Zoning is the technology that allows you to maintain the temperature of your choice in every room, every time. You don't have to use just one thermostat for your entire home. A temperature zoning system to control your air conditioning and heating in Houston or Spring TX can eliminate hot and cold spots and help save you energy to heat and cool only the areas that you are using in your home. We divide your home into different zones, or areas, and then you can control the heating or cooling as needed. We can answer any questions you have about temperature zoning systems for your home in Houston, Spring, The Woodlands, Katy, Conroe and all surrounding areas. You can schedule a free estimate for a temperature zoning system to optimize your home's comfort.
What Is Zoning?
For a customer to increase their comfort level and conserve energy...

By using motorized dampers and multiple thermostats that connect to a zone control panel, control of temperature in individual areas can be achieved. The zone control system allows a single HVAC unit to have separate temperature zones in the house (the number of zones allowed is determined by the zone control equipment). Each zone is controlled by its own space thermostat and motorized zone damper. If any of the zone thermostats call for heating or cooling, the zones not calling will have their dampers powered closed, and the zones calling will have their dampers remain open. The heating or cooling equipment will also be turned on at the same time. When all zone thermostats are satisfied, the heating or cooling equipment turns off and all zone dampers return to the open position to allow for continuous air circulation.
Is Temperature Zoning Right for You?
Temperature Zoning is highly recommended if your home has:
Multiple levels
Room(s) with large windows
Large open areas such as vaulted ceilings or foyer
Room(s) in a finished attic
Room(s) with an exposed concrete floor
Rooms that are consistently too hot or too cold
Bedroom(s) in the upper levels
Rooms that used occasionally
Occupied rooms in the attic
An extra room over the garage
Temperature Zoning is highly recommended if you:
Have young children
Spend most of your day at home
Have sleepless nights because your upstairs rooms are too warm
Avoid your downstairs rooms because they're too cold
Close vents in one room in an attempt to redirect airflow